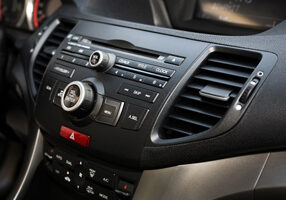 Tired of driving in the heat? We can fix that.
With summer on the way and temperatures starting to climb, the air conditioning system in your car is one of the most important to get working right. 
If your vehicle's A/C is not working right, or if you want to get it tested before it gets really hot, we can test and fix any issues that arise.
Get your A/C checked before it gets worse
Your vehicle's air conditioning system removes hot, dirty air from inside the car and replaces it with cool, dry, clean air. You might notice it is blowing only hot air, even though when you last had it on in the fall, it was working fine. 
All sorts of things can fail in an air conditioning system, from the blower motor to the condenser, a worn compressor, or simply a refrigerant leak.
A/C diagnosis and repair requires a trained technician. At Tune Tech, our trained technicians will check every component of your air conditioning system — from major parts like the compressor to less obvious components like refrigerant and hoses.
Symptoms
No air from the vents

Only hot air from the vents

Air is not as cold as it should be

The light on the A/C button flashes or flashes and goes out when turned on